Thank You
We will respond to your query shortly.
Arrange Your FREE
No-Obligation Meeting
Either phone us on (03) 5744 3861 or complete the form below
We Respect Your Privacy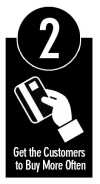 16 Nov
Recession Buster Newsletter #2
As businesses reopen, we are being confronted with a new 'normal'. More people are now working from home and increasingly, staff and customer meetings are being conducted online rather than face to face.  In the second edition we explore the 4 Ways to Grow a Business with a focus on the second way - How to Get Your Customers to Buy More Often. In other articles we look at how to turn your 'electronic brochure' style website into a lead generation machine and how to convert those leads into sales. Finally, we look at the importance of giving your customers a guarantee...
More >