Meet The Team
Our dedicated team are committed to ongoing professional development so you enjoy the best technical tax and accounting advice available. Below are the profiles on our team members and we invite you to contact them to discuss your accounting, tax and financial requirements.
MICHAEL O'BRYAN
Michael commenced his accountancy career with Coopers & Lybrand in 1978. He completed his Bachelor of Business Studies graduating in 1985 and was admitted to the Institute of Chartered Accountants in 1986. He became a Fellow of the Institute in 1997.
Michael is a business and farm specialist. He provides technical advice on business rearrangements and re-structures and the associated tax and capital gains implications, business set-up and acquisition, business valuations and disposals. Self-Managed Superannuation Fund administration and negative gearing of property are other advisory specialisations. In addition, through the firm's network of associates, he can provide advice for older people and/or their adult children through the aged care accommodation maze.
The firm supports a number of programs including cloud based solutions like Xero and Michael has a wide knowledge of software programs and which program will best suit your business. He can also assist with specialist tax queries and has an in depth knowledge of the Caravan and Holiday Park industries.
Michael is also involved in business and family succession planning and business buy/sell agreements. Clients often say, "Why didn't the people I previously spoke to make it so easy to understand the planning process in succession and business buy/sell agreements and insuring for these events".
Outside the office Michael is involved with Yarrawonga in the Ovens & Murray Football League and various local community groups. In the summer months he enjoys camping and scuba diving with the occasional round of golf. Outback and overseas travel are also favoured pastimes. You can contact him direct on mob@obryanodonnell.com.au
JOSH VAGG
Josh initially joined the firm in 2000 as a trainee accountant while completing his Bachelor of Business (Accounting) degree through part-time study at Charles Sturt University. Upon graduating in 2007 Josh moved to Perth to take up a position as senior accountant with a national firm that boasts 1300 staff across 8 offices.
The grounding was invaluable and he was exposed to a broad range of issues and his portfolio of clients ranged from small family partnerships to large national corporations.
He completed his post graduate studies through the Institute of Chartered Accountants and successfully received his Certificate as a Member of the Institute of Chartered Accountants.
In 2009 Josh returned to Victoria to take up a supervisor's position with another national firm of Chartered Accountants. In 2010 he was promoted to manager and was responsible for a large client listing and the direct supervision of a team of people. Josh continued to work across several industries including hospitality, retail, construction, primary production and IT just to mention a few. Included in Josh's role was being manager of the hospitality division, which specifically focused on business advisory and management of all hospitality clientele.
During his career he has gained experience and knowledge in:
Business Restructuring
Small Business Tax Concessions
Personal Services Regime
Self-Managed Superannuation Funds
Contractor Taxation Issues
Tax Planning and Tax Advice & Asset Protection
Business Consultancy & Cash Flow Management
Hospitality Consulting and Business Advisory
Josh has knowledge and expertise with a range of accounting programs and has recently become a Certified Xero Advisor, a cloud based accounting program that can significantly reduce administration time. He depth of knowledge gives clients access to government grants and he is passionate about helping clients grow their business through marketing techniques including website development, search engine optimization, video production and social media.
Outside of work Josh tries to keep active playing both local cricket and football and he enjoys spending time with his family and the great outdoors that might mean helping out at his parents farm, camping, fishing or snowboarding. You can contact Josh direct on jv@obryanodonnell.com.au
ROBERT McKEOWN
Robert joined O'Bryan & O'Donnell in 1998 and commenced part-time accounting studies. He left the firm to study full-time, completed his Bachelor of Business in 1999 and re-joined the firm. Prior to this Rob had an extensive career in the banking sector.
Rob attends to the preparation of Financial Statements, Tax Returns and Business Activity Statements for all types of entities. In addition, Rob attends to the administration and preparation of individual Income Tax Returns and can assist you in determining all the claims and tax offsets that you are entitled to and any capital gains tax issues. He can also source finance and vehicle acquisitions at the best current rates.
Rob is a keen fisherman and enjoys golf and following local sport and enjoys woodwork & furniture restoring. He is also involved in community activities and groups being a past President and current Vice-President of the local Neighbourhood House organisation.
JAN MURPHY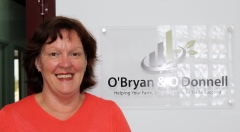 Jan has been with O'Bryan & O'Donnell since 2000. Her background prior to this was in industry particularly in relation to Human Resources with a large abattoir and prior to that had further public accounting practice experience.
Jan is involved in preparation of financial statements, income tax returns and Business Activity Statements for all trading entities. In addition Jan is involved with the preparation of financial statements of self-managed superannuation funds and all aspects of compliance required for a self-managed superannuation fund. Jan also attends to other special client requirements.
In her spare time Jan enjoys keeping up with her children, grandchildren, travel, cooking & dining.
CASSANDRA WALKER
Cassandra joined O'Bryan & O'Donnell in 2002 and is currently studying her Bachelor of Business Degree on a part-time basis. Cassandra also is involved in preparation of financial statements, income tax returns and Business Activity Statements for all trading entities. In addition she is involved with the preparation of financial statements of self-managed superannuation funds and all aspects of compliance required for these funds and attends to special needs of clients.
Cassandra's time outside of work includes spending as much time as she can with her family, family outings and fishing trips, camping, gardening and reading.
JAN WILSON
Jan originally joined O'Bryan & O'Donnell in 2000 and left before returning in 2008. Jan is primarily involved in preparation of financial statements, income tax returns and Business Activity Statements for all types of businesses. She also assists in administering the workflow and lodgement of Business Activity Statements and Banklink processing in addition to attending Taxation Office queries on behalf of clients.
Jan enjoys shopping, family, visiting friends and following St Kilda and the local football.
MICHELLE EDNIE
Michelle originally commenced with O'Bryan & O'Donnell in 1990 as a receptionist and Administration Officer before leaving in 2002 to commence business with her husband after purchasing a local Bakery. After successfully operating the Bakery for 8 years Michelle took up another position in administration.
Upon returning to O'Bryan & O'Donnell in 2012 Michelle has worked in our administration team and manages all the company and SMSF secretarial requirements including preparation of documents to be lodged with ASIC, set-up of companies, trusts and superannuation funds, de-registrations, preparation of minutes where required and Annual Returns required by ASIC. Michelle also administers our Banklink clientele.
Michelle keeps herself busy keeping herself fit, following her 10 year old in his sporting pursuits, reading & cooking.
DENISE BOND
Denise has been with O'Bryan & O'Donnell since 2006 and is our friendly receptionist who also attends to the lodgement of tax returns and the administration and processing of Income Tax Assessments.
Denise likes to go shopping in her spare time, following her daughters sporting careers, entertaining, socialising and just relaxing.
SUE COOK
Sue has been with O'Bryan & O'Donnell since 1985 and is involved in office administration. Sue has become a self taught expert in the use of MYOB and in addition to administration, assists clients with issues they may have with MYOB.
In her spare time Sue spends time with family, following her son's football, entertaining, social media & web surfing.
Helping Your Farm, Business or Trade Succeed